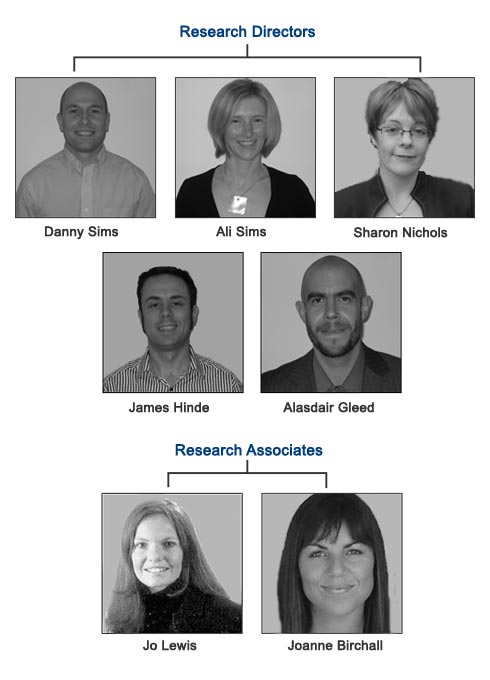 Projects at DJS Research Ltd are led by Research Directors: Danny Sims, Sharon Nichols, Ali Sims, James Hinde and Alasdair Gleed. Between them they have over 50 years' experience working on both the client and agency sides. The Directors carry out all projects at DJS from start to finish.
All are experienced across a range of research areas and techniques - Ali has also lectured to audiences for the Market Research Society (MRS) and previous research companies.

The wider team consists of:
Associate Director: Kate Saxton
Research Managers/Senior Researchers: Gayle Higginson, Sarah Smith, Lyn Allen, Maya Winter and Matt Bristow.
Trainee Researchers: Laura Crowe and Alex McCluckie
Data Services: Matt Coulling, Simon Butcher and Alastair Smith
Support Staff: Claire Jackson, Alex Noden and Anne Russell
Finance: Claire Laybourne and Sharon Howe
Telephone Unit/Field Managers: Jane Mannion and Maura Hobson
Telephone Interviewers: Team of 50 trained business to business and consumer telephone interviewers who work within our in-house CATI telephone unit.
Fieldforce: Face to face interviewers and recruiters based throughout the UK. IQCS trained.
We also sometimes work with external senior research associates - all of which have many specific areas of expertise from quantitative data analysis to qualitative group moderation. In the main, Joanne Lewis, Joanne Birchall and Justin Lewis are used on a frequent basis.
---